Jewelry Sale
| | |
| --- | --- |
| Date: | Sat, Jul 14, 2018 |
| Time | 1:00 PM to 4:00 PM |
| Venue: | Clovis Point Vineyard & Winery |
| Contact: | Hannah Robertson, Manager |
| Phone: | 631.722.4222 |
| Email: | info@clovispointwines.com |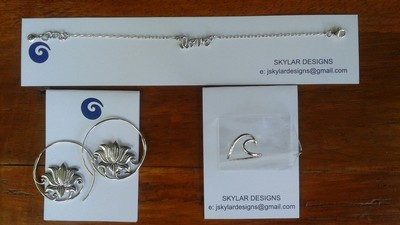 J Skylar Designs Sea Glass, Stones and Sterling Silver
Beach combing and treasure hunting had always been a hobby that I enjoyed sharing with my boys, Jared and Jesse. Strolling along the shoreline, Walking and finding the ocean's trinkets was always an exciting endeavor, followed by making crafts from our bounty--mobiles, sculptures, necklaces and more. Many years later my youngest son Jesse passed away and out of this tragedy I was inspired to create designs that were unique, meaningful and celebrated our mutual love for the ocean and all its glory.
While spending time in Bali, I started working with sea glass, stones and sterling silver to create jewelry as a way to express myself and find some peace. J Skylar Designs was formed to convey the importance with our connection to nature and the endless connection with each other.
Each piece is unique. May you wear it in good health and happiness.